Vocalists
News
Those of you who have come to see Risky Business in the last few months have undoubtedly noticed a few changes, including our newest inductees: Andrew and Camille. Each has added new and intriguing possibilities to the Risky package and we're still finding new ways to make use of their talents.
Moreover, we're committed to showing off our versatility. Toward that end we've been adding a lot of new material lately and combing through the old repertoire as well. You'll never be sure what songs you'll hear on a given night, so come early and come often. :)
We think you'll like the results.
By the way, we invite you to email any photos of us that you think might meet the high editorial standards of the Risky Web Site. We eventually get around to putting some of them up.
Ed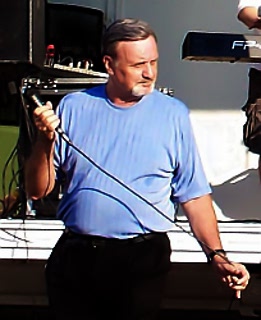 We don't know when you'll be reading this, but rest assured that right now, somewhere, Ed is singing, dancing or telling a story. We hear rumors that he sleeps occasionally, but we don't put much stock in them. Ed is a born entertainer. He always has his "gear" with him -- a large repertoire of odd accents, characters, facial expressions and postures. We believe that Ed joined Risky Business because his last group finally had heard all of his stories.

Ed handles Bass and Baritone vocal chores for the group, does on-the-spot choreography and is the band's Ambassador in charge of "working the room." He'll step out front to kick off tunes like "Morse Code of Love" and "Why Do Fools Fall in Love," and even has a few lead vocals up his very long sleeves. Did we mention that Ed is by far the tallest member of the band?


Ed's professional experience includes performing with an a cappella group, The Traditions, and working with Sheer Magic. And, of course, performing anytime there are people around!

Send E-Mail to Ed at ed@risky-biz.com
---
Sal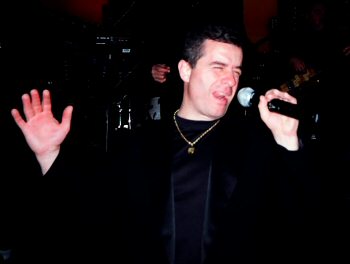 Since joining Risky Business in 2007, Sal has impressed his bandmates with his comprehensive knowledge of the music of the ʻ50s, ʻ60s and ʻ70s. What makes this even more impressive is that he is one of the "less old" members of the band. Need a tune by Dion and the Belmonts? Sal knows the song and the words. How about a Gary Puckett hit from the ʻ60s? Sal's got it covered. A ʻ70s disco tune? No problem! He's become our "go to" guy.

This Queens, NY native sang lead and played keyboard in local bands as a young man. The experience developed in Sal a passion for singing and a knack for performing. And his time with Risky Business has weathered him into a seasoned pro. When Sal is out in front of the band, whether he's singing a song by Spiral Staircase, Frankie Valli or Jay Black, you know that he's giving 100 percent effort. Not only does he impress the audience, but he impresses us too -- and that's no mean feat!

---
Andrew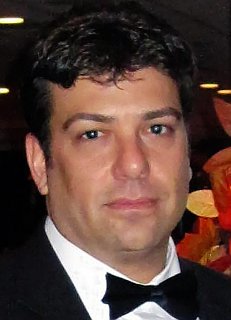 Among the hoary veterans of Risky Business, who have been plying their musical craft for decades, Andrew is a notable exception. This native New Yorker, who joined the band in November 2012, only began singing in public in 2008. In fact, his beginnings in vocal performance came not with bands, but rather in musical theater. He grabbed his first stage role with the Marathon Little Theater Group in the show 42nd Street. After that came performances in such stage classics as Guys and Dolls, Once Upon a Mattress, Mame, Carousel and The Pajama Game. In fact, it was Andrew's on-stage performance in a Christmas Holiday show that caught the eye (and ear) of a Risky Business band member who happened to be in the audience. The rest, as they say, is history.
Andrew, a proud veteran of U.S. Marine Corps service, sings first and second tenor parts with the band. He admits to a reverence for the great vocalists of the past like Nat King Cole, Tony Bennett and Frank Sinatra, so when we're called upon to deliver a standard, it's likely to be Andrew at the microphone. But a few months of Risky Business Boot Camp have uncovered in Andrew a wider range of vocal capability than anyone (including Andrew) expected. "Gimme some Bob Seeger, then K.C and the Sunshine Band and then some Stones, Marine! Double time!" And he has...
And need we mention that Andrew knows all the words to the Marine Corps Hymn by heart?
---
Camille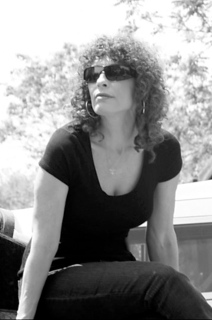 Who likes to wear sparkly clothing, enjoys cooking Italian food and, incidentally, has been a great vocal performer for more than two decades? It's Camille who, since August 2013, has been the newest addition to the Risky Business line-up. She's an extremely versatile singer who is equally at home massaging a sultry ballad or a belting a ripping rock tune. And demonstrating how life often moves in circles, Camille worked with Risky Business members Marty, Greg, Willie and Tommy with the wedding band, Windjammer, back in the day. So working with Camille again is truly a homecoming!
Camille's artistic endeavors are as diverse as they are interesting. As an actress, she has an extensive background in regional theater. She has performed on-stage at the Patchogue Theatre and has had parts in the CBS TV series pilot, "Person of Interest," and in the Warner Bros. remake of the film, "Arthur." On the musical front, Camille most recently led her own group, The Camille Saturday Band, whose first demo CD won rave reviews from "NYC A&E Magazine." When she's not busy with Risky Business, Camille writes original music and produces her own videos.
How she finds time to cook Italian is a bit of a mystery. But if her cooking is as good as her singing, we hope that she invites the band members over for Sunday afternoon dinner real soon!